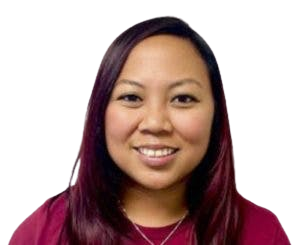 Dr. Valerie Dimalanta was born in the golden state of California. She comes from a military family and moved to Corpus Christi when she was 4 years old. She graduated from Flour Bluff High School where she went on to achieve her undergraduate degree at our local Texas A&M-Corpus Christi. After undergrad school, she attended Angelo State University, in San Angelo TX, where she received her Doctorate of Physical Therapy.
During her time in school, she worked as a technician where she gained experience in outpatient, inpatient, acute care, and pediatrics, also working with hippotherapy and aquatic therapy. Kindness, honesty, loyalty and integrity are values that drive Dr. Dimalanta each day. Dr Dimalanta's driving passion is to help patients return to their hobbies and be able to do the things that make life fun and exciting.
Favorite Quote:
"Love all. Trust few. Do wrong to no one."
What is Dr. Dimalanta reading and listening to?
Harry Potter Series

The Alchemist by Paulo Coehlo
Dr. Dimalanta is driven to help patients return to doing the things in life that they did before their injuries. She specializes in Postoperative Physical Therapy.
Here at Avila Physical Therapy, we strive to create a welcoming and friendly environment for all our patients and staff. Dr Dimalanta finds that the best things about working here are the team-oriented style we have and being able to get to know our patients on a more personal level.
When she is not treating patients here at Avila PT, you can find Dr. Dimalanta traveling and spending time with her family and godchildren. She loves being outdoors (when the heat isn't absolutely scorching). Don't let her outdoor side fool you, she can definitely wind down with a quiet day at home, a comfy couch, and a good book or movie.